Are you a startup entrepreneur or small business owner looking for a conventional digital marketing specialist? Wrong place! At Growth Hackers, we go beyond traditional startup marketing. We work closely with you to ensure that your startup growth is fast, consistent and permanent, thanks to our expertise in web marketing, growth hacking services, fundraising and more.
Growth Hackers can help your startup grow faster!
Around 95% of the startups fail. We believe it should be the other way around: 95% of startups should succeed. At Growth Hackers, we believe that startups fail in selling their ideas to users, investors, customers, journalists, bloggers, and more. We can help you whether you are
building a startup from scratch
or you have a more mature business.
There are
many reasons why startups fail and we are here to make yours succeed
. We are going to help you achieve your goals through fast and effective methods. If you are a startup entrepreneur who want to gain visibility, increase your number of customers or get funding, contact Growth Hackers and we will help you achieve
startup success
.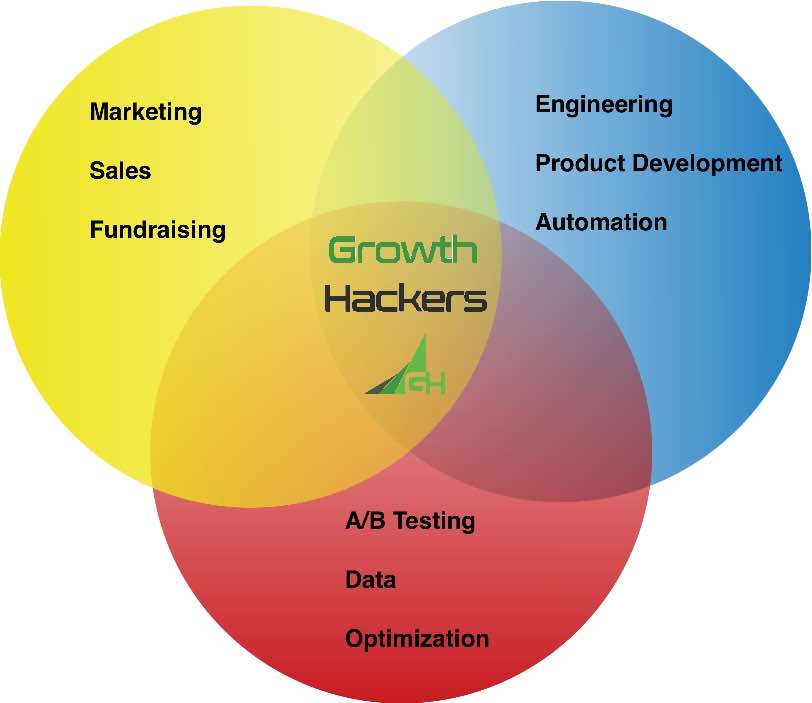 ---
What is Growth Hackers' pricing strategy?
---
We are used to work with startups at any stage. We are very flexible in term of pricing and can adapt to startups' needs, growth goals and budgets. Some startups are VC funded, others are bootstrapped and this is why we offer custom growth plans depending on your startup needs and resources.

Growth Hackers can help you define your budget, the metrics / KPIs (Key Performance Indicators) to focus on and your growth goals. We know that most startups don't have the budget for consulting and this is why we go further than consulting by executing growth hacking tactics.

To give you an idea how flexible we are in term of budgets, we currently work with startups and entrepreneurs having budgets as low as US$ 190 / month and other clients who spend thousands on growth.
---
What is our philosophy?
---
Growth Hackers is more than a digital marketing specialist or an Internet marketing services agency: we offer growth hacking services. We use growth hacking to ensure the growth of your startup. We find scalable strategies for your startup growth - driven by your product and your users. Then, we use our expertise and creativity to make the growth magic happen.

Growth Hackers gets data and feedback from your users by A/B testing every process. Experimentation by A/B Testing is extremely important in growth hacking and allows growth hackers to try many acquisition channels, track the data, prioritise, analyse the results, optimise and scale.
---
How does Growth Hackers work?
---
Together, we define your budget, your startup growth goals, a timeline and the channels that we will work on in order to reach those goals. We A/B test many channels to get feedbacks and we analyse data from your users. We focus our efforts on your users and the data collected and we growth hack your startup growth.

We offer growth hacking services; which go beyond simple Internet marketing services or digital marketing. To grow your startup, you should work with Growth Hackers, a company that specializes in growth hacking.

Growth should be part of every startup entrepreneur's strategy. Contact us and let's grow your startup together. Your life of a startup entrepreneur will be even more exciting by working with Growth Hackers!
---
Why did we create Growth Hackers?
---
Finding blogs, books or seminars that explain growth hacking strategies is easy. You don't need growth hacking training, you need growth hackers that implement growth hacks to your startup. You can't just replicate growth hacking tactics, each company should have their own growth hacking processes customised for them. A growth hack that worked for one startup might not necessarily work for you.

Growth Hackers allow any startup to implement growth hacking. Growth Hackers customise growth hacking tactics for your startup and deliver startup growth.
---
What exactly is growth hacking?
---
There are multiple ways to define growth hacking. Check our growth hacking definition: a mix between marketing, data, engineering and creativity. Growth hacking goes further than traditional marketing as it uses data analytics, users' feedbacks, A/B testing and product development with 1 goal only: growing your startup.
---
What Differentiates a Growth Hacker from a Conventional Digital Marketer?
---
A growth hacker is a professional implementing growth hacking tactics. Unlike digital marketers who look through numbers and audit websites, a growth hacker is a marketer, a creative data scientist and an engineer all at once. In other words, a mad man focusing on startup growth.

Growth is not only about acquisition or retention, this is also about accompanying and growing your startup product. This is why growth hacking goes further than digital marketing because a growth hacker is also involved in product development. Therefore, the growth hacker job description is complex because a growth hacker is a cross-functional multi-disciplinary individual.
We will not only create a compelling content marketing strategy,
great email marketing campaigns
or make your website SEO-optimized, we will also make your product more user-centric thanks to the feedback and date we will gather in order to bring you explosive growth.
A growth hacker is a person whose true north is growth.  Everything they do is scrutinized by its potential impact on scalable growth.
---
I am a technical startup entrepreneur and I don't think I need marketing nor growth hacking.
---
The pursuit of growth is what defines a startup. A new tech company is not a startup if growth is not its goal. Startups are designed to grow fast. You should focus on growth and at Growth Hackers we are here for you.

For successful startup entrepreneurs, Product Development and Growth are equally important. There are many successful growth hacking examples, which will prove you this: you can't only focus on your product, growth should ba part of your strategy. If you believe you have entrepreneurial DNA in you, you should know that pursuit of growth is key to success. This mindset should be anchored in your 'entrepreneur anatomy'.

Growth Hackers takes care of your startup growth as well as accompanying you with product development. Those growth efforts will give you market and users' knowledge, which will allow Growth Hackers to show your startup how to improve its product.

You need more than a digital marketing specialist, you need startup growth hackers.
---
Growth Hackers have a great attitude, an internal investigation process, and mentality that is unique among technologists and marketers. This mindset of data, creativity, and curiosity allows a growth hacker to accomplish the feet of growing a user base into the millions.
---
Growth Hackers is certified to help grow your startup.
---
Growth Hackers is trusted by the 2 most influential digital marketing specialists. We received certifications to offer your startup the most advanced digital and inbound marketing services.
---
You need digital marketing, branding and growth hacking to get great traction for your startup
---
The image your startup conveys is primordial. At Growth hackers, we use
inbound marketing
, growth hacking and
content marketing tactics
to give you astonishing
startup branding
. This is essential to get good traction at first. Then, it will allow us to bring growth while accompanying your startup product development. By
outsourcing your digital marketing
needs, you will have the insurance to get results without the risks to hire people. Once we have brought you great traction, we will focus on growth, growth and... growth!
A growth hacker works within the parameters of a scalable and repeatable method for growth, driven by product and inspired by data. A growth hacker lives at the intersection of data, product, and marketing.
Startup accelerators accelerate growth. At Growth Hackers, we create growth!
---
We help our clients by focusing on their growth and accompanying them with product development
Growth Hackers helps startups get fast and sustainable growth. Here are some of the startups we are helping grow through effective growth hacking methods and inbound marketing tactics.
---
Growth Hackers wants to hear from you
Don't be shy and contact us. You want to grow your startup or business and we want to grow it with you. Let us know about your startup, your product, your target, growth goals (Gain visibility, get more users, obtain funding, increase sales...), budget and timeline if you know them, if not we will find them out together. If you are not sure we can do what you expect, just ask us and we will tell you. We are very straightforward!
---
If you want to grow your business, get a quote, ask a question or just say 'Hi', reach out to us and we will respond as soon as possible.
---
---
In addition, you can also contact our founders on Twitter. Talk to you soon!
---
Irene Sun
Co-founder & CMO
I have been working in digital media since the beginning of my career. Thanks to my academic background, I am great at interpreting data that enables companies to grow effectively.
In my free time I enjoy knitting and building websites.